Rafael Nadal in action at the French Open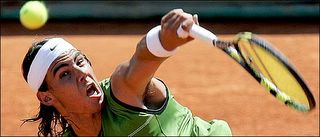 In less than 2 hours, Rafa scored a victory over Richard Gasquet, 6-4, 6-3, 6-2. I was very excited about this match but too bad there is no live telecast of the French Open on ESPN. We have heard so much about the two teenagers recently. Rafa no doubt is the main reason I'm interested in tennis (besides Maria Sharapova). Gasquet on the other hand was playing in his own homeground and he was the one of the two person (the other one is Marat Safin) who had beaten Roger Federer this year.
However, the much-anticipated third-round battle between Rafa and French teenager Richard Gasquet did not live up to its billing. Rafa has now won 20 consecutive matches, all on clay. This will be his second appearance in the round of 16 in a slam; he reached the fourth round at the Australian Open (he was beaten by Hewitt in five sets match).
His next opponent is another Frenchman, No. 23-seeded Sebastian Grosjean. They have never played before. However, I'm looking forward for the semifinal because if everything goes right, Rafa might play with Federer.
Maria Sharapova at the French Open

On the women competition, Maria Sharapova is definitely have my support although clay is not her favourite court. She plays very well and dare to take risks but it's her finishing that refrains her from winning crucial matches. Just like Rafa, she's only 18 years old and they are No.1 players in the making. If Sharapova plays well in Roland Garros, she will definitely end up on the top rank replacing Lindsay Davenport.
Sharapova is through to the 3rd round and she will play her fellow Russian compatriot Anna Chakvetadze. They have never played before.